Key West Florida, is without a doubt a fantastic vacation destination. Visitors flock to the island year-round, but especially during the cooler winter months and the warmer summer months when they can enjoy the island's many outdoor activities and the unusual attractions found nowhere else.
There are entire books dedicated to describing the ideal Key West trip, but what if you only had a day to explore the island? Key West is best experienced over the course of several days, but if you only have one, there are a few must-dos you just can't miss on a Key West day trip, including grabbing a slice of its signature key lime pie and strolling around downtown Key West.
A tour we think you'll love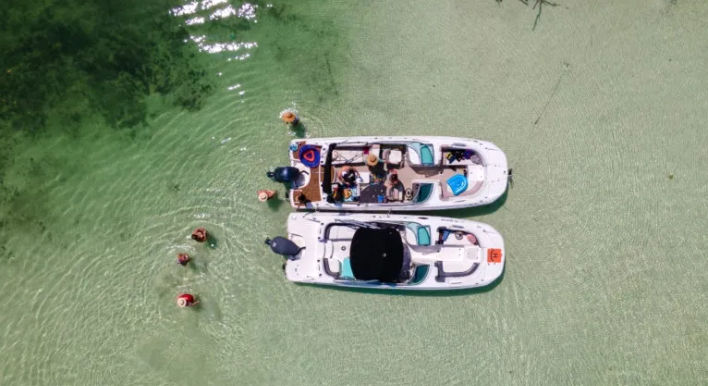 Sandbar Tour For Large Groups
From $1,100
View tour
The season in which you visit the island will also have a significant impact, as many of its features are open only during certain times of the year, so if you plan to spend only a day exploring Key West, read on to learn more.
Schedule For A Typical Day
Even though it's not set in stone, here's a typical schedule for a Key West day trip:
Morning: Breakfast at Blue Heaven
Visit the Ernest Hemingway house and Truman Little White House
Afternoon: Lunch at the Cuban restaurant El Mason de Pepe
Shopping in Old Town along Duval Street

Visit the Key West Aquarium and/or Butterfly and Nature Conservatory

Take a picture at Mile Marker Zero and the Southernmost Point Buoy
Evening: See the sunset at Sunset Celebration at Mallory Square
Dinner at El Siboney Restaurant

Stop for a nightcap at Sloppy Joe's, Ernest Hemingway's favorite bar
Key West Activities
The following are just a few suggestions for things to do in Key West if you wish to plan your own one-day itinerary to see as much of the island as you can.
1) Popular Tourist Attractions
The following are a few of Key West's best-known attractions:
The Southernmost Point

Ernest Hemingway House

Little White House

Dry Tortugas National Park

Florida Keys Eco-discovery Center

St. Paul's, the first church on the island

West Martello Tower and Garden Center

Audobon House and Gallery
2) Key West Tours
There is no shortage of tours in Key West to choose from! Visit the Key West Historic Seaport after seeing the "Greetings from Key West" painting on the side of the Cuban Coffee Queen, in the heart of Old Town.
If you want to see Key West in a day, the Old Town Trolley is a great method to see as much of the island as possible because it operates as a hop-on, hop-off tour system.
After dark, if you're willing to remain for long enough, you can even embark on a ghost tour. You may see Key West from the sky on a seaplane tour or take a sunset tiki boat ride among the sandbars.
3) Water Activities
A visit to Key West would be incomplete without experiencing the water activities:
Jet skiing

Snorkeling

Day and night kayak tours

Parasailing

Boat tours
4) Visit Mallory Square And Duval Street For Some Retail Therapy
Mallory Square is the hub of Key West, serving as the city's social and cultural center. The time a tourist spends at Mallory is guaranteed to be filled with a variety of interesting shops owned by street vendors and performances by local artists.
Every night of the year, beginning about two hours prior to sunset, Mallory Square hosts the Sunset Celebration, an event where musicians, vendors, and street performers congregate to enjoy the end of the day and watch the sunset.
One can go on a pub crawl along the 1.25 miles of famous bars and drinking establishments that line Duval Street, in addition to shopping at the many unique boutiques that line the street.
5) Beaches And State Parks
You can go snorkeling at Fort Zachary Taylor State Park, take a tour of the fort, or relax on one of the many beaches on the island if you want to spend some time in the ocean. Tourists love to go to Smathers Beach and Briggs Memorial Beach Park.
Picnic tables, umbrellas for rent, restrooms, and concession stands can all be found in each of these areas. The Fort Jefferson loop, the Truman Beach Point Trail, and Key West CityWalk in the city center are all great places to go hiking if you find yourself in Key West.
6) Cuisine
For a high-quality meal to kick off a day in Key West, try Blue Heaven's breakfast or brunch. Even though bookings are unavailable, this eccentric restaurant is a popular choice among vacationers, having been the site of, at various times, a bordello, a saloon, a cockfighting ring, and a boardinghouse.
Marquesa or the Cuban Coffee Queen are both great places to grab a bite to eat during the day. There's Garbo's Grill for a standard meal, the original Margaritaville by Jimmy Buffet for a Cheeseburger in Paradise, and El Siboney for authentic Cuban fare for dinner.
Visit Kermit's Key Lime Shoppe for a slice of pie or a dipped stick covered with the island's characteristic tart delight, key lime concoctions. You can even buy the ingredients to make your own key lime pie at home!
Key West is the home of several restaurants serving delicious Cuban food and soft drinks, for those who want to sample Cuban cuisine.
7) Galleries And Museums
Key West Florida has a rich history that might fill more than a day, but if you're short on time, you can still see a number of interesting exhibits at one of the island's museums:
Key West Lighthouse and Keepers Quarters Museum

Mel Fisher Maritime Museum

Key West Shipwreck Treasure Museum

US Coast Guard Cutter Ingham Museum

The Oldest House (in Florida) Museum

Key West Museum of Art & History

The Custom House Museum
8) Live Entertainment
Live performances of all kinds can be found in Key West. The numerous nightlife establishments on the island often host live concerts and shows. Day trips that last into the evening could include the following:
Tennessee Williams Theater

Little Room Jazz Club

Key West Amphitheater at Truman Waterfront

Red Barn Theater

Aqua Bar & Nightclub Drag Show
9) Bars
Key West is home to some of Florida's oldest and most vibrant watering holes, many with live music nightly. Almost everyone is aware that Ernest Hemmingway liked to spend his time at Sloppy Joe's, but if you're looking for a place where you can get your entertainment fix all in one place, The Bull & Whistle Bar is your best bet. Among Key West's top watering holes are:
Sloppy Joe's

Green Parrot Bar

Rick's Bar

Garen of Eden

Bobby's Monkey Bar

The Bull & Whistle Bar
10) Local Festivals
Depending on when you travel to Key West, you might be lucky enough to attend one of the several annual events held there. At Fantasy Fest or the Annual Florida Keys Seafood Festival, you might find yourself in the midst of costumed revelers.
For younger visitors, we recommend the Pirates in Paradise Festival or the Mermaid Festival, while for those without children, the Key West Food & Wine Festival is a must. The Seven Mile Bridge Run is one of the few races held entirely on a bridge over water, and the Lobster Fest is great not just for those who like eating lobster but also for those who like diving for them.
In April, Key West celebrates Conch Republic Day, a mock declaration of "independence" from the United States based on the issue of illegal immigration. You may find out which of the city's many festivals will be taking place during your stay by consulting the city's official calendar.
11) Neighborhood Strolls
There are many distinct areas in Key West, each with its own mix of old and contemporary, affordable and luxurious housing. Various high-end residences may be found on Sunset Key, which is only accessible by ferry, while several marinas can be seen near the Historic Seaport.
Famous island residents have left their historic mansions in Old Town, while modern construction can be found in New Town and The Meadows.
12) Wildlife Of Key West
Because of its location between the Gulf of Mexico and the Atlantic Ocean, Key West is home to a variety of flora and fauna that can be found nowhere else on Earth. If you only have a day in Key West, you can still spend quality time with the local wildlife.
Adventurers can go on a mangrove forest tour, check out the third-largest coral reef in the world, or observe sea turtles basking in the moonlight from a glass-bottom kayak. Key West provides a number of ways to experience wildlife, including:
Key West Aquarium

Dolphin viewing excursions

Key West Wildlife Center

Key West National Wildlife Refuge
13) Unique Locations
The quirky culture and history of Key West make for a number of interesting attractions that visitors can enjoy in a day:
Key West Cemetery

San Carlos Opera House

Piggy Mills House and Garden

Key West Historical Memorial Sculpture Garden

Fort East Martello Museum to see Robert the Haunted Doll

Captain Tony's Saloon, which was a former morgue

Nancy Forrester's Secret Garden

African refugee cemetery at Higgs Beach

Fort Zachary Taylor haunted corridors

The Southernmost House
Get Ready To Leave!
Obviously, a day trip to Key West can be jam-packed with exciting adventures. History, pleasure, and a touch of Key West's unique charm should all find a place in your daylong exploration of the island.
It doesn't matter how packed your itinerary is, you must make time for a sunset photo at the Southernmost Point, grab a slice of key lime pie, and take a sunset cruise at the end of the day.
Don't waste any time. Key West Florida, is south Florida's must-see destination, with something for everyone, even if you only plan to spend a day in Key West. Plan your day trip to Key West right now!
---